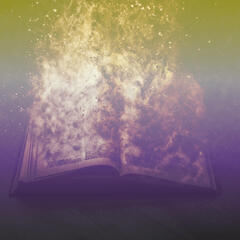 2022 BTB Reading Challenge
An annual reading challenge hosted by Robin (they/them) and Nicole (any/all), hosts of the podcast Books That Burn and the blog Reviews That Burn.
The reading challenge for 2021 is hosted via TheStoryGraph and runs from January 1st to December 31st.
You can join the challenge community by following us on Twitter and/or joining the Discord server. For questions and comments send us an email. If you like to know more about us you can go to the Carrd for Books That Burn.
Frequently Asked Questions
What is a reading challenge?
A list with prompts to guide you in reading more or different books than you normally would.
How do I join this challenge?
Go to TheStoryGraph, make an account or log in to your existing account, make sure you're on the reading challenge page for the 2022 BTB Reading Challenge, then click "Join Challenge".
You can also join the challenge on Twitter with the hashtag #BTB2022RC, by following us on Twitter, or by joining the Discord Server.
We won't be monitoring other platforms, but when you post about it please use the official hashtag so others can find it.
What is TheStoryGraph?
TheStoryGraph is a site to help you track your reading and find new books.
What is Discord?
Discord is an app (computer and mobile) where you can talk to people via text or audio. It's frequently used by gamers for livestreaming, or by physically disparate communities to talk about whatever is the focus of the server. You can join our Discord Server here.
How many books do I have to read?
There are 12 required* prompts and 16 bonus* prompts.
To complete every single prompt in the official challenge you'll need to read 28 books, but if you set your own goal please tell us about it on Twitter!
*For more details, refer to our answer for "What's the difference between bonus and required prompts".
What if I can't find an author for a prompt
We recommend using TheStoryGraph to see what other people are using for that prompt, to give you ideas.
When will prompts be posted?
All the prompts are available now, you can find them on the reading challenge page on TheStoryGraph and on the Prompts page.
Reminder tweets will go out on each Saturday, and will usually say what book we read or are planning to read for that prompt, in case you need an idea.
What's the difference between bonus and required prompts?

The required prompts are for one identity at a time, and the bonus prompts are for intersections of identities.
Required prompts have to be completed in order to finish the challenge on TheStoryGraph, while bonus prompts are not required, but are tracked separately.
We're happy about every book you read for the challenge, but we don't control TheStoryGraph's challenge tracking metrics.
What if I read them out of order?
The order is partly arbitrary, partly carefully arranged so that there's an alternation between queer identities and identities of origin.
There are no repercussions for reading out of order, do what you want!
Does [this medium] count?
Audiobooks, ebooks, graphic novels, poetry, fiction, nonfiction... it all counts. The point is for this to prompt you to read widely from authors across a variety of backgrounds, especially authors with intersecting marginalizations.
How can I help my friend join the challenge?
Send them the link to this Carrd or to the challenge on TheStoryGraph.
What happens if I can't/don't read all the prompts?
You will have read more books than if you didn't join us in the challenge!
Can I submit challenge ideas?
We're happy with this year's prompts, but please email us with suggestions for 2023's author list and/or theme at [email protected]
How can I start my own challenge?
Go to this page on TheStoryGraph and select "Create a New Challenge".
Prompts
Prompts are grouped based on the month in which the Friday reminder tweet will be posted. If you're trying to complete prompts in order this will give you an idea of whether you're on track to complete the challenge by the end of 2022.
January
Disabled
Disabled and Queer (bonus)
Disabled and BIPOC (bonus)
February
Aro/Ace
BIPOC and Aro/Ace (bonus)
March
Latinx/Latine
Latinx/Latine and Queer (bonus)
April
Intersex
BIPOC and intersex (bonus)
May
Palestinian
Palestinian and Queer (bonus)
June
Nonbinary/Genderqueer/Trans
BIPOC and Nonbinary/Genderqueer/Trans (bonus)
July
Sex Worker (current or former)
BIPOC and Sex Worker (bonus)
Queer and Sex Worker (bonus)
August
Indigenous
Indigenous and Queer (bonus)
Two Spirit (bonus)
September
Bi/Pan
Bi/Pan and BIPOC (bonus)
October
Asian
Asian and Queer (bonus)
November
Lesbian/Gay
Lesbian/Gay and BIPOC (bonus)
December
Black
Black and Queer (bonus)
Disabled and Sex Worker (bonus)